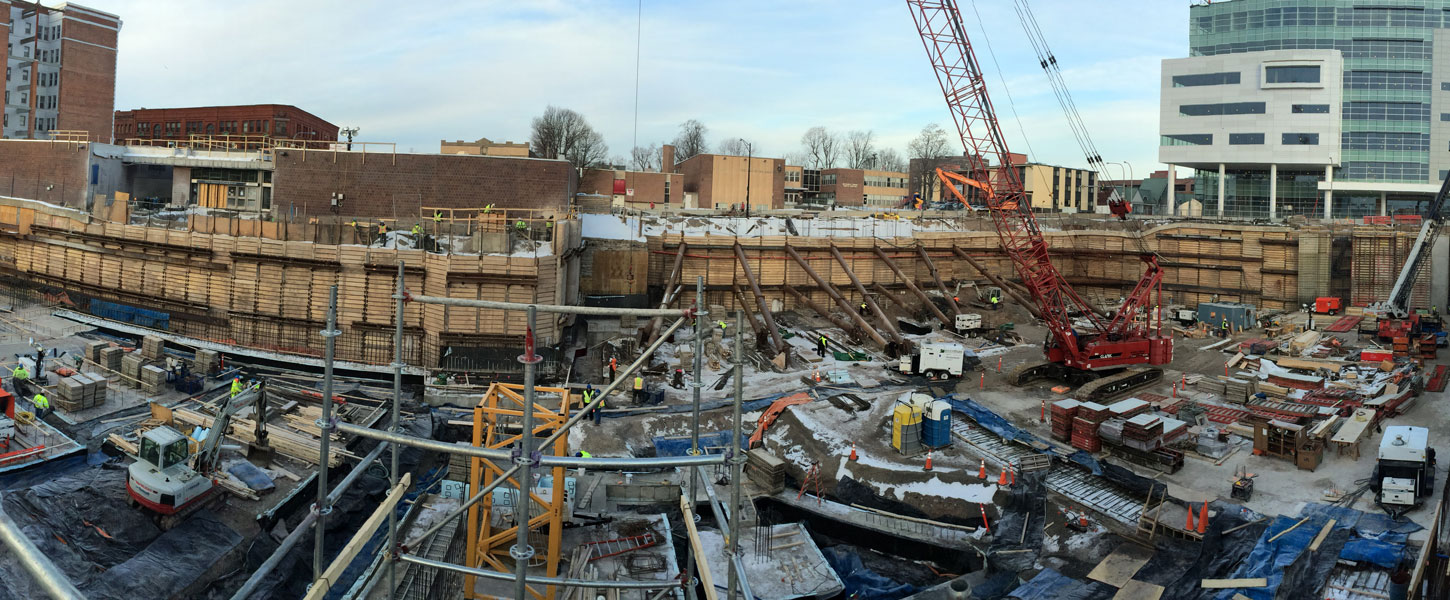 Creating Walls
The largest hospital project in the country in 2015, the University of
Buffalo Medical Campus started off with a nearly 40' deep excavation.
With a high water table and very high level of concern for water intrusion,
the CCW Miraply membrane was chosen to wrap the entire 180,000 sq. ft
building foot print. The foundation walls had a mixture of CCW 860 and
Miraply V tied-into the under slab waterproofing. Architect: HOK
that will last

PROJECTS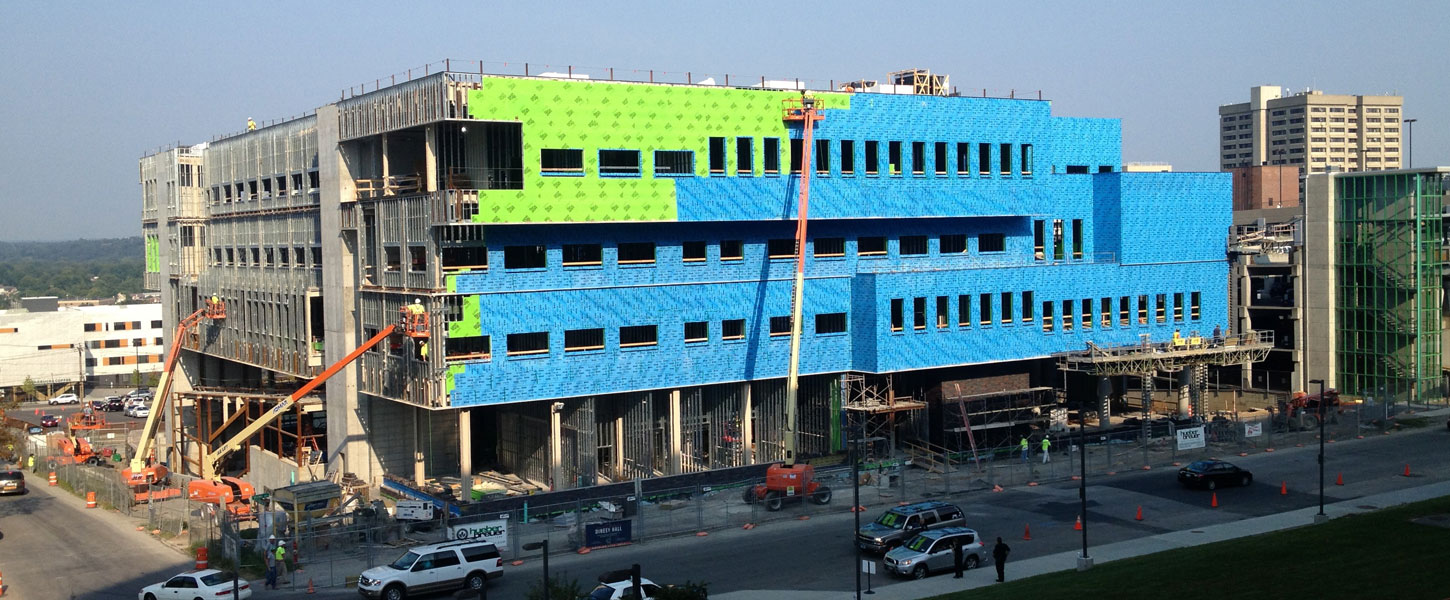 21st Century
Syracuse University Dineen hall is SU's new law school designed with
an air/ vapor barrier and exterior insulation to increase the energy
efficiency of the building. Carlisle Coatings & Waterproofing's CCW
705 AVB is controlling airflow through the exterior walls and the exterior
insulation keeps the dew point on the outside of the wall assembly.
Architect: Gluckman Mayner Architects
Legal Education

PROJECTS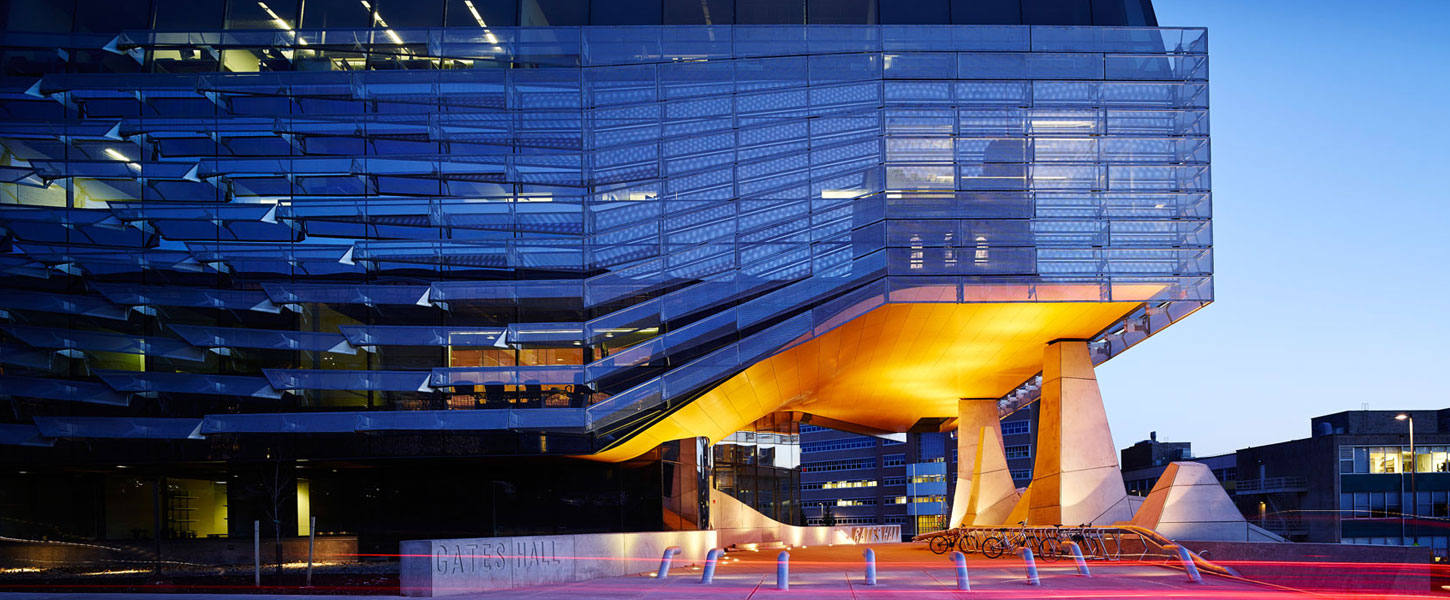 Get educated on
The Cornell University Gates Hall Computer Information Science building
was designed as a cross-college space increasing collaboration among
students and faculty. The same approach was applied to the building
enclosure. Various Carlisle waterproofing systems such as under slab
waterproofing, foundation waterproofing, hot applied waterproofing and
a fluid applied air barrier were chosen to keep the building tight and to
ensure that the material tie-ins were warrantable.
Building Envelope Projects

PROJECTS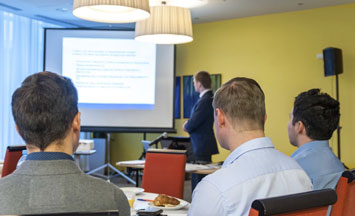 LUNCH & LEARNS
Cannan Alexander & Scott LLC specializes in building envelope products for the commercial and residential building industry. We assist in system design development, specifications, and installation training's.
LEARN MORE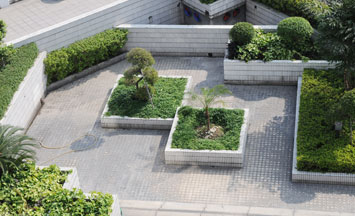 ROOF EVALUATION SERVICES
Our mission is to educate, inform, and consult with architects, building owners, and contractors to increase awareness of construction products that emphasize "sustainable" and energy saving technologies.
LEARN MORE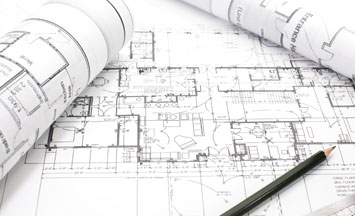 SPECIFICATIONS
Cannan Alexander & Scott LLC strives to increase awareness and use of construction products that encourage "sustainability".
We are Knowledgable in the Industry
Honest and Dependable
Work with our Clients from Beginning to End of Project
FIND US ON FACEBOOK
This message is only visible to admins.

Problem displaying Facebook posts.
Click to show error
Error:
An access token is required to request this resource.
Type:
OAuthException
Solution:
See here
for how to solve this error
TESTIMONIALS
"In order to offer our clients the highest quality building solutions we engage CAS early in the design process. CAS understands complete building systems and assemblies beyond the products they offer. Their expertise in building envelopes, thermal & moisture dynamics and roofing systems is current and vast among the ever-changing codes, building science, and economy. CAS provides in-depth knowledge of energy efficiency and environmental responsibility within the constraints of marketable and affordable building technology while delivering solutions that do not compromise the design intent."

Mauro Cringoli, RA
Freelance Designer / Builder, Architecture & Planning
"I regularly design projects with rain screen assemblies and in our area, it must meet the NFPA 285 fire code and the New York State energy code. There isn't a better rep firm than CAS to find complete wall assemblies that meet both codes that also incorporate new and intriguing elements such as terra-cotta, HPL panels, GFRC and ACM panels. I regularly work with CAS to ensure I am meeting code. "

Robert C. Fornataro, AIA, LEED ap BD+C
Senior Associate, Architect, SWBR Associates
OUR REPS
Dan Cannan
1 Grove Street Suite 210
Pittsford, NY 14534
Ph: 585-261-6074
dcannan@casreps.com.
---
Kevin Scott
1 Grove Street Suite 210
Pittsford, NY 14534
Ph: 585-703-9737
kscott@casreps.com
---
Kevin Sullivan
1 Grove Street Suite 210
Pittsford, NY 14534
Ph: 585-738-7007
ksullivan@casreps.com
---
Brandon Clark
1 Grove Street Suite 210
Pittsford, NY 14534
Ph: 585-623-0123
bclark@casreps.com
Brock Alexander
1 Grove Street Suite 210
Pittsford, NY 14534
Ph: 585-748-2491
brockshawa@aol.com
---
Dave Fitzpatrick
803 River Road
Binghamton, NY 13901
Cell: 315-506-9004
Ph: 607-648-7458
dfitzpatrick@casreps.com
---
Paige Cannan Holenbeck
1 Grove Street Suite 210
Pittsford, NY 14534
Ph: 585-727-1010
pholenbeck@casreps.com