ROOFING REPORTS
Cannan, Alexander & Scott is pleased to share with you an enhanced roof report tool that is now available. We are able to do a roof condition survey and provide a detailed report for you.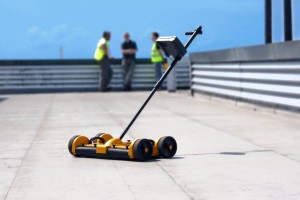 Which can include:
a view of the roof area using advanced GPS mapping
highlight details & deficiencies
photographs of details & deficiencies in report
moisture surveys
recommendations for repairs and/or replacements
provide a detailed roof report quickly & professionally
This report is valuable for:
Architects
Colleges & Universities
K-12 Schools (Building Condition Surveys)
Private Building Owners
Hospitals & Medical Facilities
Please fill out our form or call 585-727-1010 to contact Paige Holenbeck to schedule one today.
LEAK MOISTURE DETECTION
Water intrusion is common and destructive, degrading the structural integrity of a building. Locating excess moisture can be a challenge as there is often no evidence of it on either side of the wall or roof. If this undetected moisture is not identified, the roofing and wall systems will rot and decay. At Cannan, Alexander & Scott, we make early detection of wet areas a priority so we can take the appropriate corrective action.
To detect moisture buildup in the roof , we primarily use and recommend these scanners:
RWS Moisture Scanner
The RWS Moisture scanner is a multi-mode, non-invasive scanner designed for the instant, precise, and non-destructive evaluation of moisture conditions and leak tracing in the roofing and walls system of the building envelope.
download brochure
DEC Moisture Scanner for Roofing
The DEC Moisture scanner for roofing is a mobile non-destructive scanner designed for the instant surveying of moisture conditions in roofing and waterproofing systems.
download brochure
Infrared Roof Inspections
Using our high-resolution infrared thermal imaging camera we can provide infrared roof surveys. This is a proven method for detecting trapped moisture in a roofing system. Wet areas are identified and surveys will provide diagnostic information necessary for making an informed decision when considering roof repairs versus roof replacement.
download brochure
NEED HELP WITH THE DETAILS? CONTACT OUR BUILDING ENVELOPE PRODUCT REPS TODAY...